Today, Presidents' Day, there was a marked shift in how renovation felt at the bookstore. The professional construction crew arrived. It was like the Cavalry coming in, and that felt pretty presidential — and LOUD — to me. (Be sure to turn your sound on.)
We've started to have "regulars" on K Street pop their heads into the open doorway to check on our progress. One man, who I assume has been keeping tabs on us, gave me the thumbs up, saying "It's coming along." To which I replied, "It doesn't feel like it."
We've been in a sea of wall dust for what feels like weeks now. Everything that is currently on the first floor — tables, tools, mini-fridge, water bottles, ladders — have this thick layer of dust from spackling, sanding, resanding, and re-spackling. I set my purse on the table and left with it covered in white dust. We've become regulars at Pizza Rock, just across the street, and my son said during a happy hour lunch, "Ew, I have dust in my ears!" (He's been the main sander in the family…well…because he's 27, and we are not.) Besides, we're saving him money on a gym membership. Every day he tells us he's discovered muscles he never knew existed in his body. 
I decided that today was the day to tackle my fear of the 14-foot ladder and patch the holes on the upper wall that the former gallery left large pockets in. I've found that spackling is not unlike frosting a cake. You get into your zone and I didn't really realize how high up I was. But the scaffolding. NOPE. Climbing the straight-up ladder to get onto the scaffolding was reminiscent of being on the school playground when I was little. Pretty sure I have not used those muscles since 5th grade, and I wasn't about to revisit the Monkey Bars at age 52, so after two steps I took a hard pass on climbing the scaffolding.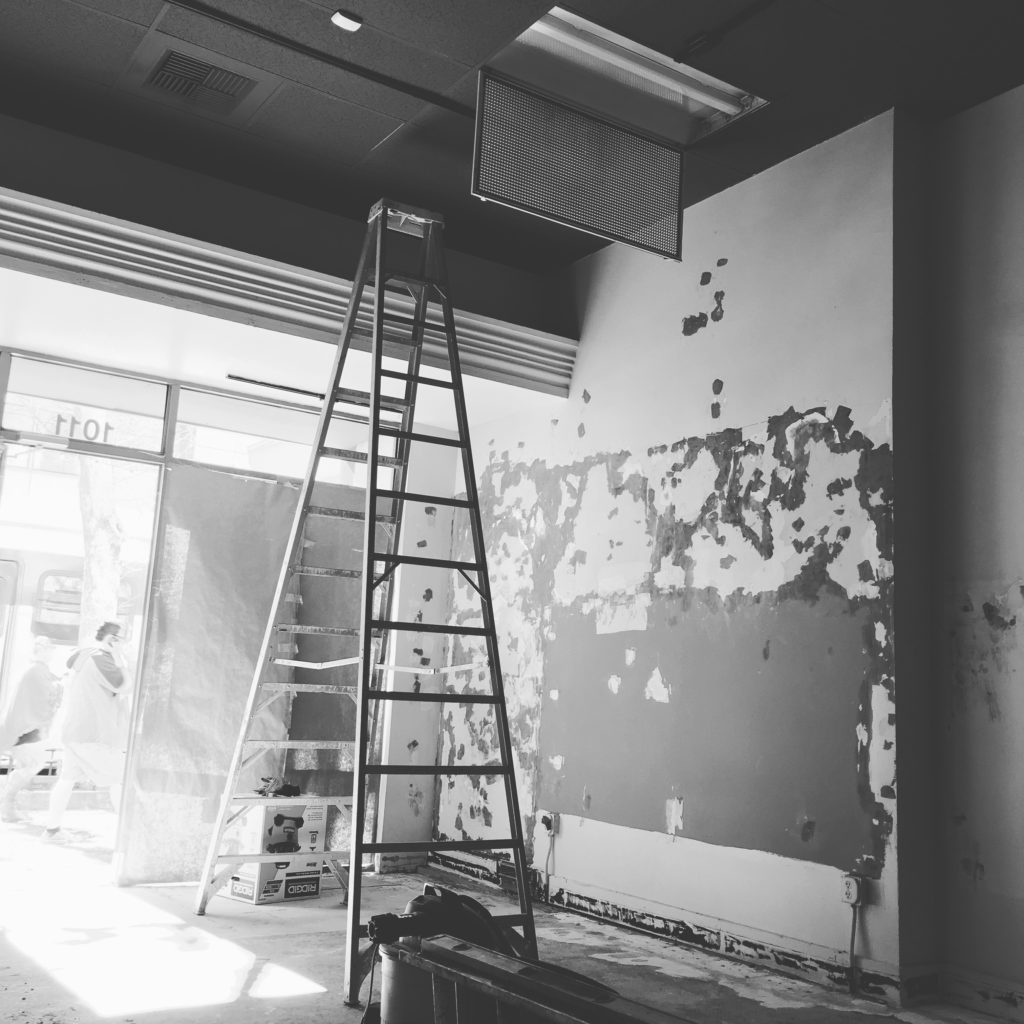 One more day of spackling and sanding and that task should be done. The contractors put drywall onto the mezzanine office wall today and started sorting out the wonky electrical throughout the building. They will be making the first-floor bathroom ADA-compliant by moving the sink — well, let's be real here — taking that awful, disgusting sink to the dumpster — and replacing it with a different sink on to the adjacent wall. I am hoping that they will be able to use this super-cool cast-iron sink from upstairs. They'll have to tell me if it is ADA-compliant. If it's not, then I'm taking that bad boy home. 
Tomorrow morning, the construction crew will be back at it while Ross and I go to Loftings to see what they might have for two chandeliers that are in our Art Deco theme.