I have to admit that we — and by "we," I really mean my husband and my son — are making faster progress on demo of the store space than any of us figured. Don't get me wrong, I've been dolling out Ibuprofen to them like Skittles. I even went so far as to draw a hot bath last night for my husband after he came hobbling home muttering something like "I'm really out of shape."
I didn't go down there yesterday, which makes their progress even more exciting to see today.
Aside from a couple posts that have electrical conduit around them (which will wait for a licensed electrician to dismantle), they were able to remove all of the small rooms on the second floor.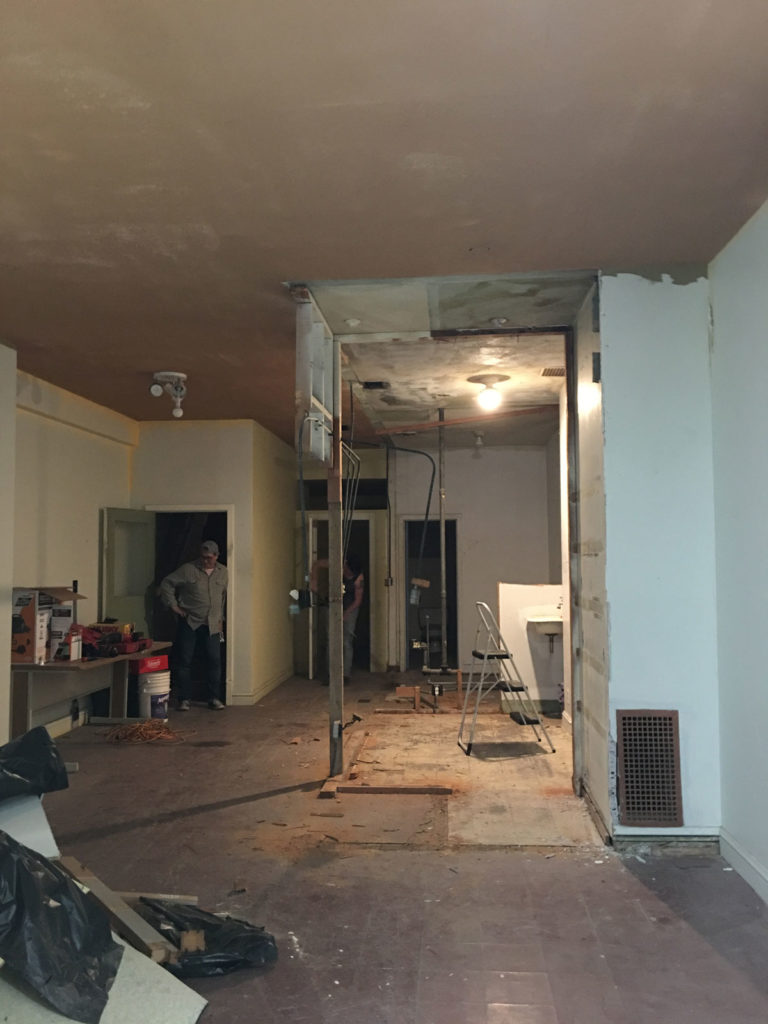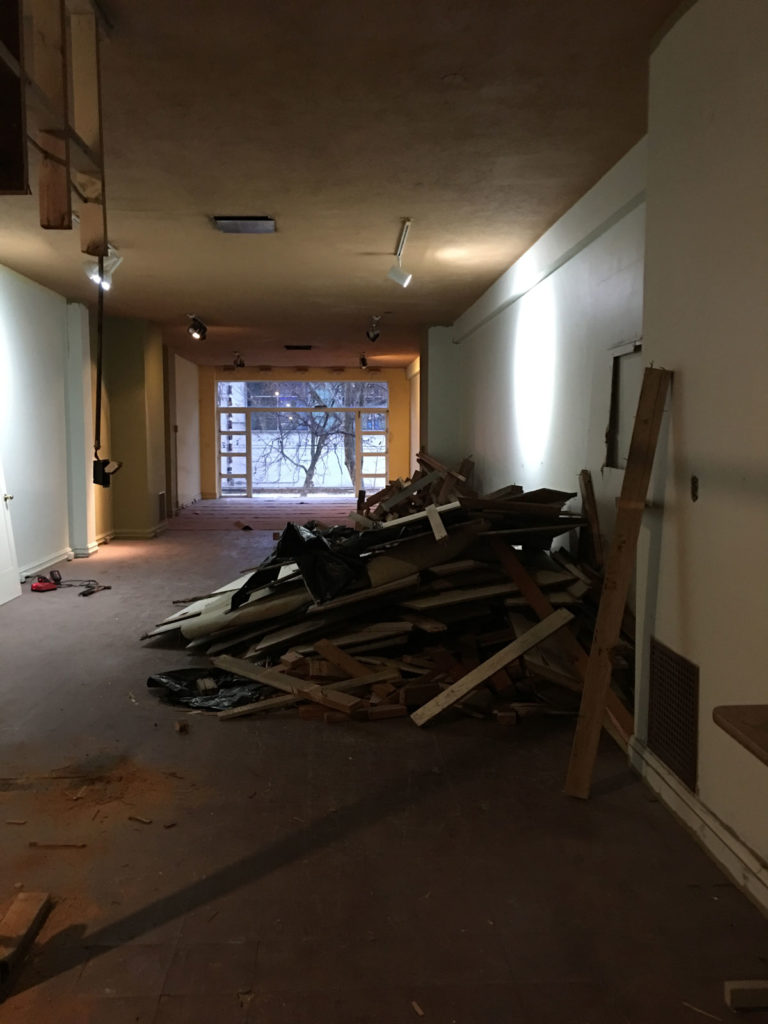 It appears that I finally got the blue color combination sort-of right. Winner, winner chicken dinner for the bump-out (dark blue) and ceiling colors (medium blue), but it's back to the drawing board for a much lighter main wall color and much darker exterior colors tomorrow. Home Depot loves me.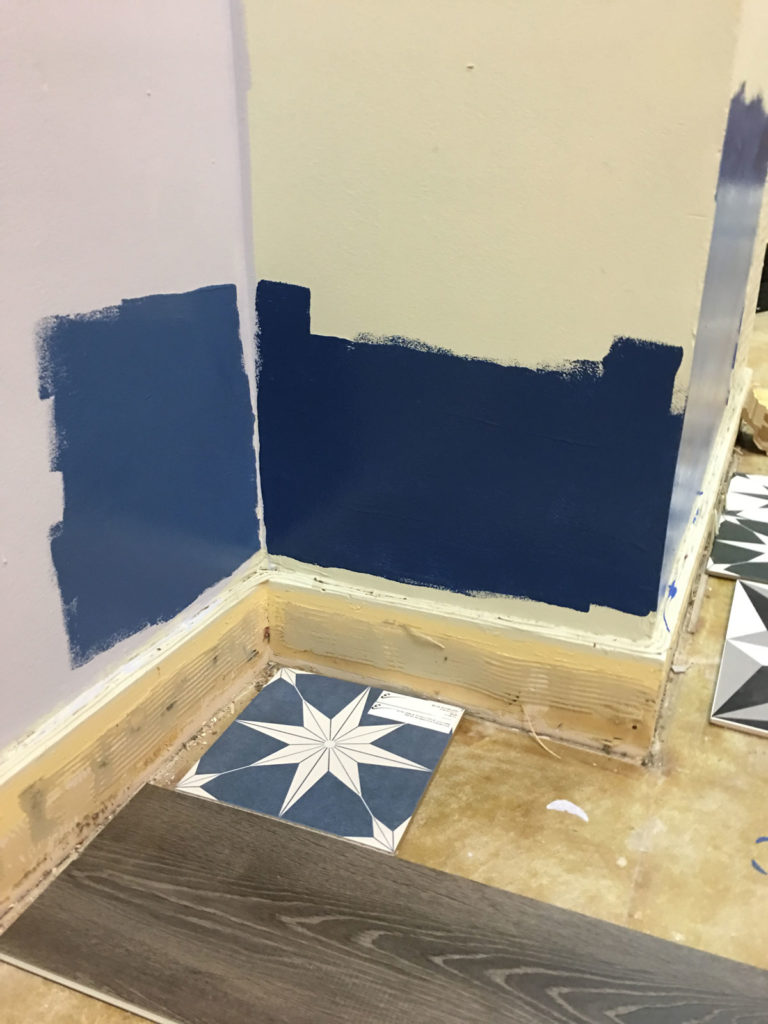 After pouring water on the existing tiles in the entryway to see how they'd clean up, I'm now super-extra bummed that they are too damaged for us to salvage.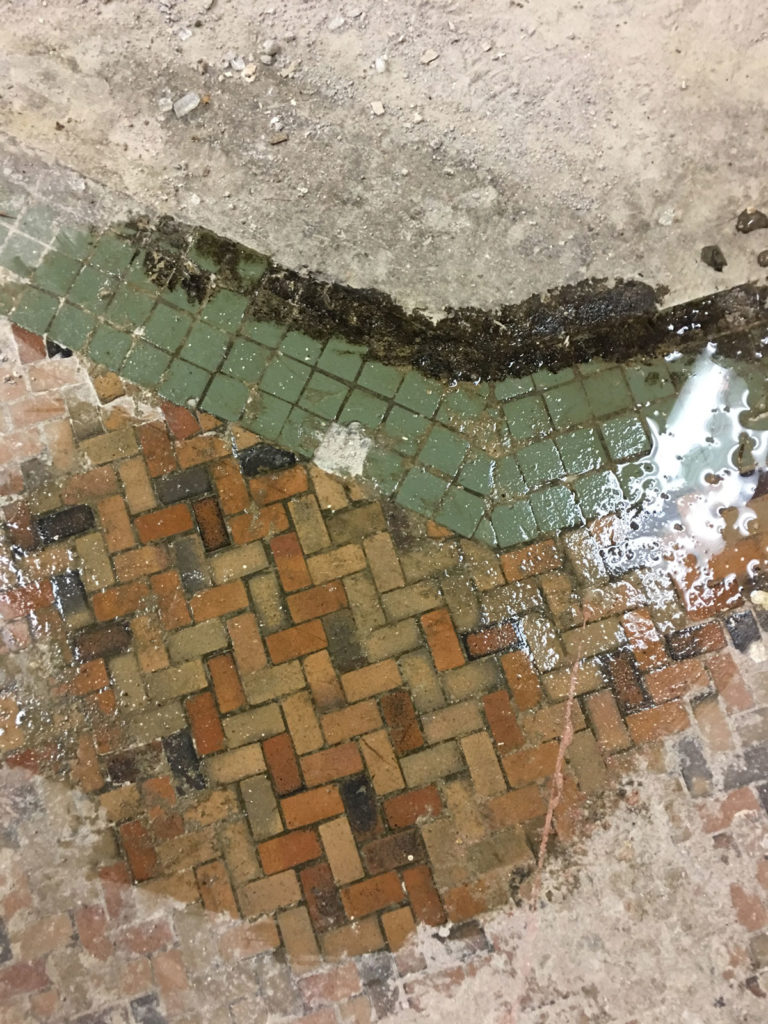 Yeah, we'd have to change our whole color scheme, but I'd do it in a heartbeat if this tile was salvageable. 
From the depths of the scary basement comes some gifts from the past. On Monday, they found a set of solid-metal chess pieces, so we'll set those up on our chess board once we open the store. Today's finds included a Mardi Gras mask, a poor guy missing his head and one leg, and a semi-transparent figure missing a shoe. We'll add these to the box with the scary Barbie.
Thursday, they'll head down to the basement again to start cutting out the cages. I hate to think what those were for. 
Here is a photo of the lift that used to go down to the original basement (or sub-basement?) which is now filled in with cement. 
UPDATE: According to the Sacramento History Facebook page, "This is designed to go up from this position, not down. The curvature of the metal at the top center of the elevator car pushed open double metal doors on the surface of the sidewalk when going up (and close them afterwards when going down) to load goods and bring them into basement storage without the need to them to be entered through the principal doorway, as this business had no alley access. The area below this level would have been the piston and waterworks for the hydraulic lift to push it up and down. Here's a video of one in operation."
https://youtu.be/M6Cie04UIRE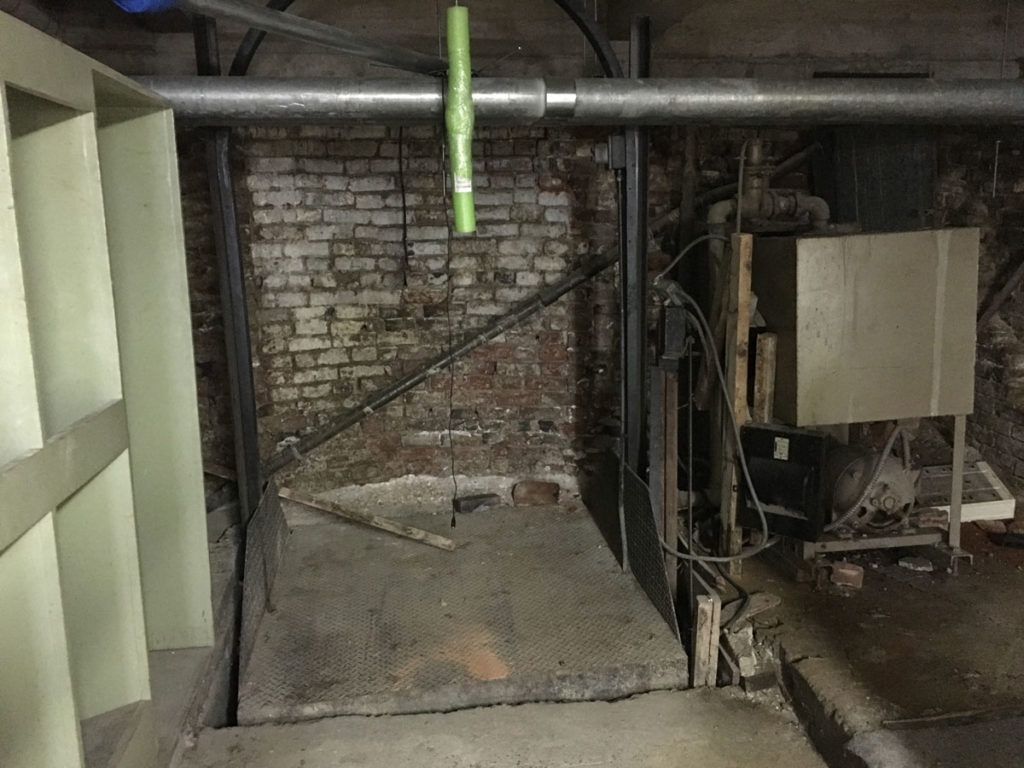 As we were locking up tonight, despite the awful weather, there were actually quite a lot of people milling around K Street. A woman stopped to chat briefly with me, excited to see that there will be a bookstore coming soon. We're excited, too. Really excited.