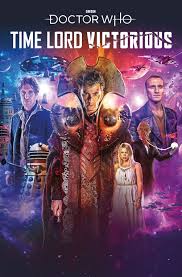 Doctor Who: Time Lord Victorious
Jody Houser
$16.99
After awaking in an alternate reality where the Time War never took place, the Tenth Doctor is recruited by his deadly nemeses, the Daleks, to defeat a terror that even they fear. Can the Doctor make peace with his enemies in order to stop this unknown monster from the Dark Times as it seeks to extinguish all life in the universe?!
This brand new time-travelling tale is part of the BBC's multi-platform event that connects across all Doctor Who publishing media, including books, audio dramas, an escape room and much more!
Collects Doctor Who: Time Lord Victorious #1 & #2.