Reserve our Flamingo Lounge for a private bookstore evening. We're offering Feast & Fiction three evenings a week (Wednesdays, Fridays & Saturdays) three weeks out of each month.
We can accommodate fully vaccinated groups of up to 8 people. Bring a meal from a local restaurant or order cheese tray or robust charcuterie board that'll fill you up like a meal. Compliment your dinner by ordering a dessert. Below, you'll find details on this unique experience. Prices subject to change with notice. Note that we will only be accepting reservations up to 2 months in advance, to accommodate construction of the bar and cafe upstairs. That is dependent on when the basement construction is finished.
Feast & Fiction will be ending in October so we can focus on opening the cafe at There and Back Again, our new sister location around the corner (across from the Cathedral). We'll be renovating the Capital Books second floor to become a bar and small cafe in early 2022.
Private Browsing:
One and a half hours of the bookstore all to yourselves.
15% off any purchases made during your session.
A beautifully set table (or tables).
A member of our team will let you in, manage your transactions, and answer any questions.
Reserve an intimate dinner for two or turn it into a gathering of friends or family (limit of 8 fully vaccinated people).
If you are looking to host a larger party, bridal shower, baby shower, or birthday party here, please get in touch with Heidi, as different rates and accommodations apply.
Private Date Night Includes:
An hour and a half to browse the bookstore and eat dinner in our upstairs lounge. Stays beyond 8:00 pm will be $25 per 15 mins (because we'll have to pay our staff overtime).
BYOF (Bring Your Own Food). You may bring your own take-out dinner (we'll provide the table setting) or purchase a cheese tray or charcuterie board and/or dessert.
Complimentary bottle of wine and bottled water (if you do not drink/want wine, we'll substitute a bottle of sparkling cider or sparkling water).
A beautiful dining experience in our Flamingo Lounge upstairs. If you are unable to climb 1.5 floors of stairs, let us know and we can set up the tables on the first floor. (The best view is from the Flamingo Lounge, though.)
15% off any purchases made at the end of your evening.
All surfaces sanitized in between reservations.
A member of our team will stage the area and let you into the store. They will be available for book recommendations if you'd like. Otherwise, think of Capital Books as yours for the evening.
Cost
Private bookstore experience (6:30 pm – 8:00 pm):
$100
Cheese Tray:
Feeds two (three cheeses, nuts, olives, fruit)
$15
Charcuterie Board:
Feeds two-three (cheeses, nuts, olives, fruit, meats, and special of the evening, such as baked brie, bacon-wrapped stuffed figs, burrata, or seasonal soup)
$40
Dessert:
$10 per dessert
If you've read everything that Feast & Fiction includes and the cost, next, see what dates are available.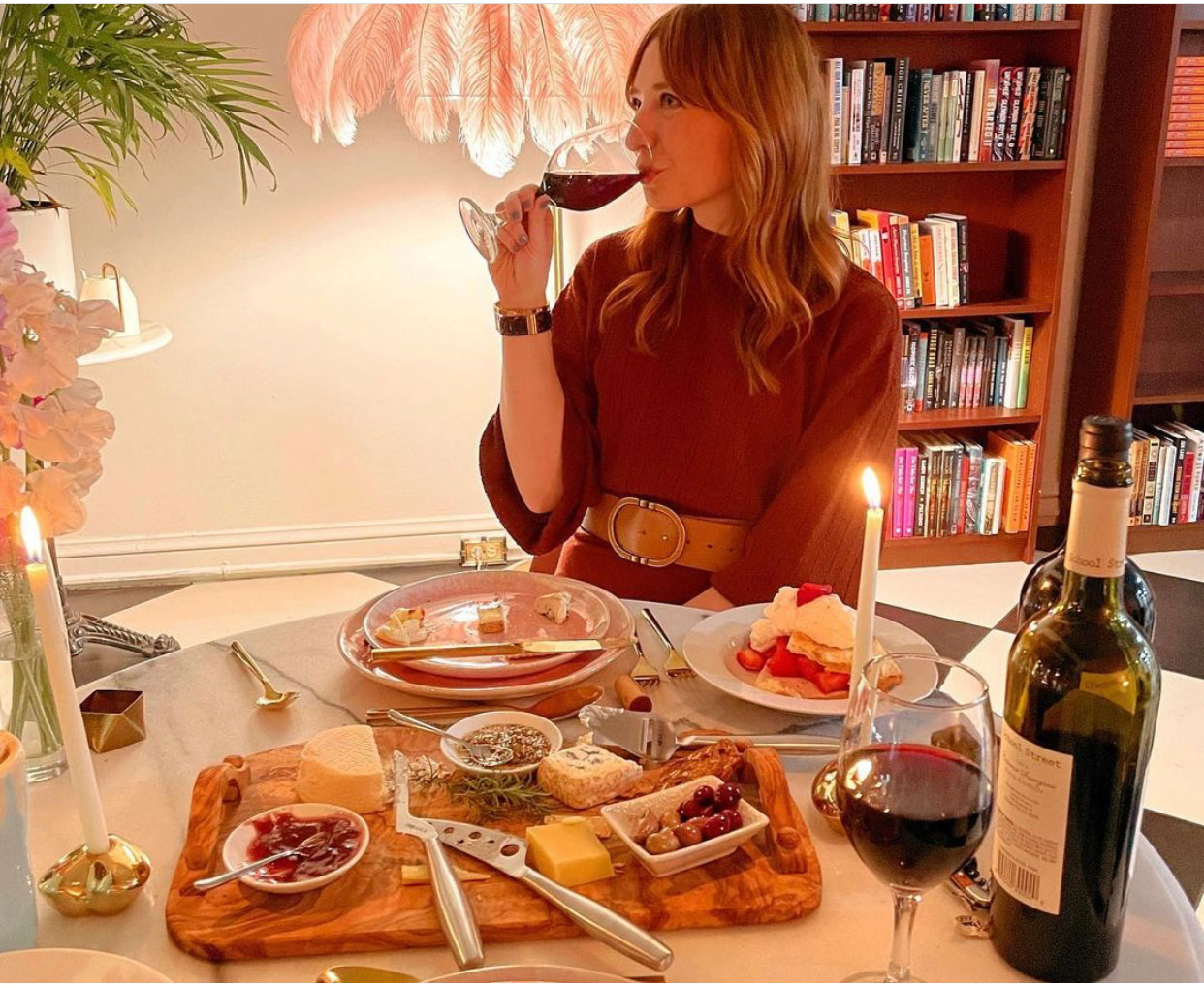 Tonight, we had a bookstore to ourselves, complete with cheese plate, wine, and strawberry shortcake from scratch — courtesy of the incredible Capital Books. I never thought any other place could give Powell's a run for its money in the quest for my heart, but the gauntlet has been. THROWN tonight. What an absolutely perfect evening."